[China Ready Stock] 8-Wave Ultrasonic Pest Rat Mouse Mosquito Cockroach Repeller Kawal Halau Tikus Lipas Nyamuk Seranga Pest Control Electronic Bug Rat Spider Cockroach Insect Repellent with LCD Display & Touch Button malaysia 3 Pin plug
Price

RM66.00

Reward Points
7
Points Needed

660

Availability
In Stock
Quantity
Description
SPECIAL 3 UNITS COMBO OFFER DEAL
Ready Stock. Ship from Kuala Lumpur by PosLaju


8-Wave Ultrasonic Pest Rat Mouse Mosquito Bug Repeller Kawal Halau Tikus Nyamuk Seranga Pest Control Electronic Bug Rat Spider Cockroach Insect Repellent with LCD Display & Touch Button AC100~240V (Uk) Uk Plug

1. Alat halau haiwan dan seranga perosak ultrasonic berfungsi secara berkesan dalam bilik seluas 80-120 meter persegi. The 8 Wave Ultrasonic Pest repeller can work effectively in a room of 80-120 square meters.
2. Alat ini dapat menghalau tikus, lipas, nyamuk, dan haiwan perosak yang lain.The mouse repeller can effectively repel mice, cockroaches, mosquitoes, and other pests.
3. Tekanan bunyi ultrasonik yang dihasilkan oelh alat ini adalah lebih rendah daripada tahap pendengaran manusia, maka ia tidak ada sebarang kesan terhadap manusia atau haiwan peliharaan serta todak menganggu alat elektronik rumah yang lain.The ultrasonic sound pressure emitted by the mouse repeller is lower than the hearing range of human ears, will not cause any harm to humans or household pets, and will not interfere with household appliances.
4. Alat ini tidak berbau, selamat digunakan dan menggunakan kuasa elektrik yang rendah.The mouse repeller is safe and environmentally friendly, odorless and tasteless, and consumes very little energy (total power <4W)Perhatian:
1. Alat ini perlu dipasang 20-80cm dari permukaan lantai dan dipasang secara menegak.2. Alat ini perlu dipasang berjauhan dari karpet permaidani, kain tingkap, dan sebarang bahan yang menyerap bunyi ini akan mengurangkan keberkesanan alat ini.3. dalam penggunaan beberapa hari yang pertama, haiwan perosak akan kelihatan lebih kerap, ini adalah perkara biasa kerana haiwan perosak merasakan ancaman alat ini dan mula larikan diri.4. disyorkan alat dipasang berdekatan kawasan haiwan perosak kerap muncul.
Precautions:1. The mouse repeller should be installed 20-80cm away from the ground, and it is required to be inserted into the power socket perpendicular to the ground;2. The installation point should be avoided as far as possible from carpets, curtains and other sound-absorbing materials to prevent the reduction of sound pressure from reducing the sound range and affecting the effect;3. In the first few days of use, if there is a significant increase in activities such as rats and pests, it is normal. Because the rats and pests that usually hide in their nests, they fled their original hiding places after being attacked by ultrasound;4. Note: waterproof and moisture-proof;5. Do not use solvents, water or wet towels to clean the body, please use a dry soft cloth dipped in some detergent to clean the body;6. Do not drop the mouse repeller or subject it to strong impact;7. Use environment temperature: 0-40℃8. If it is placed in a warehouse or a place where items are piled, or if it is out of a house, several more mouse repellers should be placed to increase the effect.
Product Size : 10cm X 6cm X 5cm
Package includes : 3 X Ultrasonic Pest repeller ( UK 3 pin Plug )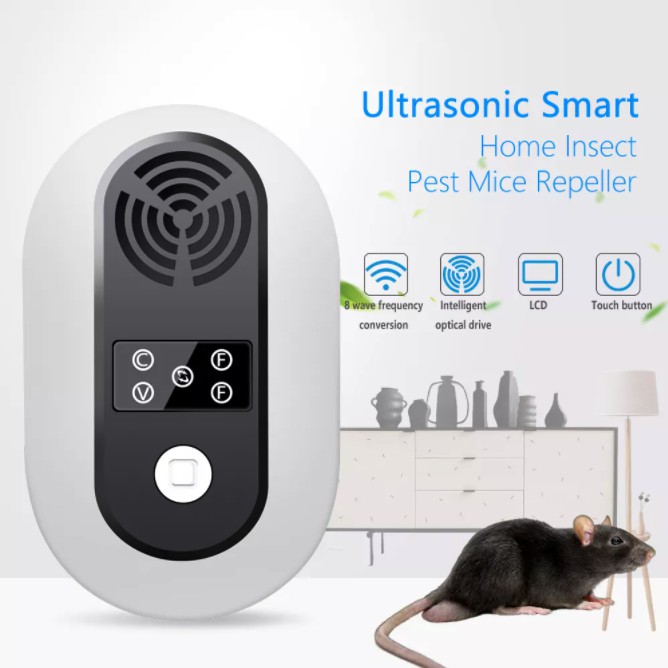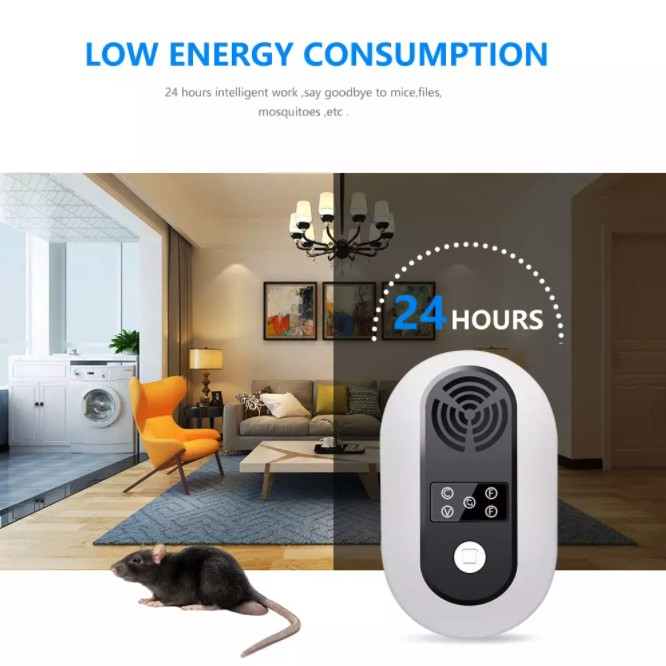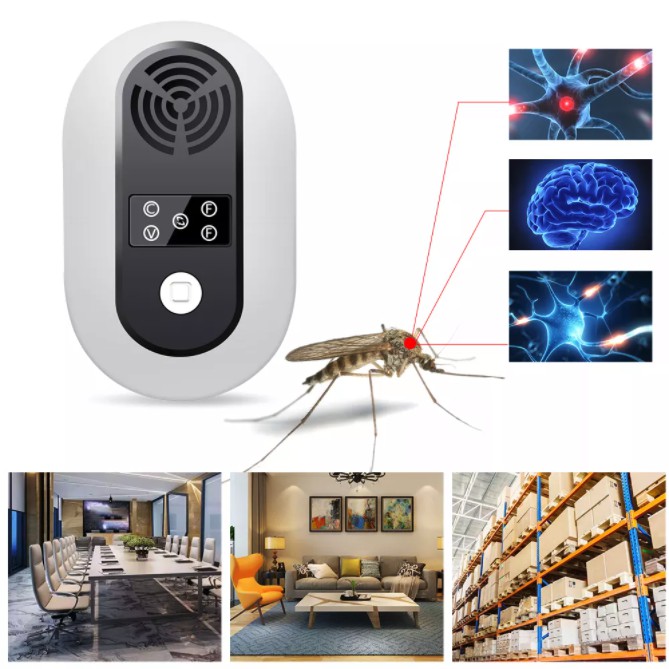 Reviews (0)
view all
back